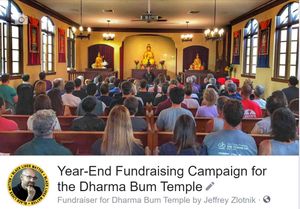 Dear Friends, 
Here we sit in crazy times, yet one thing that is constant is the heart of this community. I am reaching out and asking for donations so we can secure much-needed funds as we close out the year. 
We received a beautiful email recently and I share it below to speak to how we impact people's lives: 
"To all of the people who have worked to build and sustain the Dharma Bum Temple Sangha, 
Hello, my name is _______. I'm not sure if we've ever met or if you'd remember me if we had. I'd like to thank you from the bottom of my heart for what you've done for me. 
There was a time in my life when the only time I left my home was to go to an Introduction to Buddhism class. I was so sad and shut down that I didn't feel like there was any hope in the world. Every weekend I would drag myself out of bed to sit, and listen. It helped. 
Years have passed since then. The organization you are a part of was a beacon of light that showed me the way out of the hell I was in. No one carried me, I had to walk out on my own, but without your guidance I would not have the life I have today. 
I woke up this morning and cleaned off my little shrine. It occurred to me that I never thanked anyone for saving my life. So instead of meditating today, I wrote this letter to you. Today I feel like a human. Now I bring light to the people in my life. Thank you for everything you've done for me, and all of the people like me that come into that temple looking for hope in their lives. 
Sincerely, 
BW" 
At the end of 2016, we announced to the community we wanted to acquire a new home for the Dharma Bum Temple. In 108 days, 1,123 people made donations in what was truly a miraculous experience to secure a down payment and save this 93-year-old building. This community near and far came together to secure a new dream home for the Dharma Bum Temple. After ten years downtown and our SDSU location at Buddha for You, we opened in our new home April 15, 2017 and have been off and running (or sitting) ever since. I want to give special thanks to all of the people who supported us throughout the past fourteen years and continue to support us every day. Your contributions have made everything we do possible! 
2020 has been a challenging year to say the least! It has forced all of us to stop and reflect on what truly is most important in life. The pandemic we all face has created tremendous opportunities to practice what we have learned thru meditation and the Buddha's teachings. 
Due to the pandemic and for the safety of others, the Dharma Bum Temple and Buddha for You closed its doors March 12, 2020 and seven months later we are still closed. However, in many ways I believe the community is the strongest it has ever been. It is times like these when we can not be together physically, the love and care we have for the community flows even deeper in our hearts. Do we miss seeing each other? Yes! Do we want to be able to laugh, cry, smile and feel joy together? Yes! Will that day come sometime in the near future? Absolutely Yes! 
There have been many great accomplishments in 2020 and I thank everyone who has made this all possible. I am so proud of the incredible effort and hard work all the volunteers have put in this year. We have been able to transition about 90% of our classes to an online virtual format. We hold meditation classes Monday thru Friday every morning and night. Our Recovery Sangha is staying strong with meetings five times a week. Our Family Sangha continues to grow as a tremendous resource for parents meeting twice a month, while taking a break over the summer and will be starting the Fall schedule soon. Dharma Bum Teens meets every Sunday creating a safe environment for teens to meditate and discuss the challenges they face, while being led by Delta Beta Tau college students. Our college Buddhist group Delta Beta Tau meets three times a week and is engaged in virtual community service opportunities and retreats on the weekends. We have hosted many special guests and speakers from around the globe in what has been an incredible year considering the challenges. 
Providing so many classes online has also brought many new faces to this community from all over the world as well as reconnecting with old friends who had moved away from San Diego. 
This past April we decided to not hold our Annual Spring Fundraiser. We were all getting used to a new way of life during a pandemic and asking for donations at that time just did not seem appropriate. As we close out this year however we do need your support! 
At the end of each year we always look to you the community to make donations to help us sustain monthly expenses and help us pay down the debt of the building. This year is a bit different as you can imagine, since no one has been inside the physical Temple in seven months. Our mortgage payment is $3,200 a month and we recently discovered we need to do major repair work on the Temple roof. We must keep the Temple safe and ready for the day we can all return to gathering together. It is our intention to raise $50,000 between now and the end of the year which will cover nine months of mortgage payments and the cost to repair the roof. 
We say everything we do at the Dharma Bum Temple is free and that is the truth. We do however hope you will continue to support us as we move forward. You may donate here via our Facebook Fundraising Campaign as there are no fees. You may also donate via the DBT website or you may send a check made out to Dharma Bum Temple. If you visit the website donation page, you will see we have added many different ways one can donate and support the Dharma Bum Temple. Please take 2 minutes right now to make a tax-deductible donation online. 
As Co-Founder and Executive Director, it is an honor to be of service to this community. Thank you for all the love and support you have shown us Dharma Bums. Our intention has always been to build a safe place to study and practice Buddhism while coming together as a community. We have succeeded but we are not done yet, not even close... 
I know when the Dharma Bum Temple doors physically open again, it will be yet another beautiful celebration! 
Yours in the Dharma, 
Jeffrey Zlotnik 
Please click here to donate via the Facebook Fundraising campaign!
If you prefer to donate via the DBT website click here - https://www.thedharmabums.org/one-time-donation