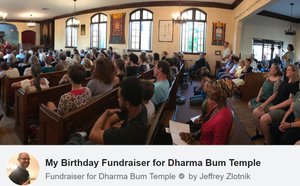 Dear Friends, 
Every Spring for my birthday I raise money for the Dharma Bum Temple. It has been an amazing start to 2019 here at the Dharma Bum Temple! Each week we see 500-700 people who come thru these doors and many of them their lives are forever changed. I want to give special thanks to everyone who supported us last year and continues to support us today. Your contributions make everything we do possible! 
Our programs are running well helping thousands of people find a sense of peace in their life. The Recovery Sangha has grown tremendously with groups meeting five times a week. The Family Sangha has grown as well still meeting twice a month while holding camping trips, events at a park or beach and holiday parties. We have a steady flow of people coming to our weekly meditation classes led by many lay people in the community. We have hosted some of the most well-known Buddhist Monks and Nuns from around the globe as our Guest Teacher Program continues to thrive. Delta Beta Tau which is our college outreach program hosts weekly meditations for 80-100 people, feeds the homeless and goes on retreats to various Buddhist Temples. We have a weekly Dharma Bum Teens program led by our college kids sharing meditation and Buddhist teachings in a discussion format. Movie Nights are now happening every Friday evening. Morning Meditation is thriving in silence 5 days a week. The Prison Outreach Program is steady as we continue to be of service at two correctional facilities. The Day of Silence Retreats are packed with 20-30 silent people every month. The Food Redistribution Program is amazing still feeding a few hundred people a week with the new/old format of redistributing food that would be wasted. A new volunteer team has completely restructured this program and it's incredible! It also brings us great pleasure to be livestreaming three of our weekly classes with more coming soon, all on our new Dharma Bum Temple YouTube Channel. 
The return of the Dharma Bum Life Program (DBLP) has brought great excitement to the DBT as well with a committed group of 24 people! We have started a new afternoon Dharma Program, showing a Dharma talk followed by meditation and discussion now every Tuesday at 12pm. This is utilizing the A/V system that was so generously donated last year. The DBLP is also giving new life to an electronic recycling program and taking ownership of the Dharma Bum Library with many new and exciting changes here as well. They are also working on revising our volunteer cleaning and gardening program in addition to playing a role in the restructuring of the Food Redistribution Program. 
Each Spring we look to you the community to make donations to help us sustain monthly expenses and help us pay down the debt of the building. It is our intention to raise $44,000 in the month of April. We say everything we do at the Dharma Bum Temple is free and that is the truth. We do however have a lot of expenses and we hope you will continue to support us as we move forward. 
We have a 2-year plan to raise funds via individual donors, grants and private foundations to pay off the remaining $654,000 on the property loan. I will continue to work diligently to ensure the Dharma Bum Temple is secure for many generations, starting with the next 2 years to get us debt free! 
You may make a donation here via our Facebook Fundraising Campaign as there are no fees. You may donate via the DBT website or you may send a check made out to Dharma Bum Temple. If you visit the website donation page, you will see we have added many different ways one can donate and support the Dharma Bum Temple. All donations are of course tax-deductible. 
As Co-Founder and Executive Director, it is an honor to be of service to this community. Thank you for all the love and support you have shown us Dharma Bums. Together we learn to think good thoughts, speak good words and do deeds all for the benefit of others. We have succeeded but we are not done yet, not even close... 
Yours in the Dharma, 
Jeffrey Zlotnik 
Co-Founder & Executive Director 
Dharma Bum Temple 
www.thedharmabums.org 
If you prefer to donate via the DBT website click here - https://www.thedharmabums.org/one-time-donation