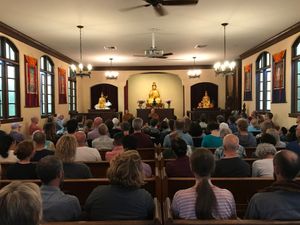 The Dharma Bum Temple was pleased to welcome back and host Ṭhānissaro Bhikkhu (also known as Ajaan Geoff) on June 13, 2019. Ajaan Geoff is a world renown Buddhist scholar and teacher (see more complete biography at bottom of post). People travel from all over the world to visit him at the Metta Forest Monastery in Valley Center, CA, where is has been the Abbot for over 25-years. It was an honor to have him here again. The Temple was full as it always is when Ajaan Geoff visits. It turned out to be a particularly special night as it ended with a surprise celebration of Dharma Bum Temple's long-running relationship with Metta Forest Monastery, as discussed below. 
The visit started with a 40-minute partially guided meditation including both a metta and body scan sequence. Then the talk began: 
"Tonight, I'd like to talk about the good side of your ego. You usually come to Buddhist centers and hear all about the bad side of the ego. I thought I'd give it a chance because it is actually a good side of the practice. You sometimes hear that the big question in world religions is, 'Who am I? What is my true identity?' And the Buddha said, that is a question that's best not answered. That question is best put aside because it gets you tangled in all sorts of problems. The best question to ask is 'What am I doing and why is it causing me suffering and what can I do to change?' The focus is not so much on what you are as what you are doing. It's a good point to remember. When he was conducting his quest for awakening, the question was never 'Who am I?' It was 'What is skillful? What will lead to happiness?' And when he saw he wasn't getting the happiness he wanted, he would always reflect back: 'What am I doing wrong? What can I change about my actions?' And it was in looking at his actions and getting his actions more and more skillful that he was able to find awakening."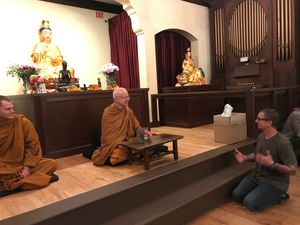 Ajaan Geoff spoke of healthy desire such as the type that motivates one into Buddhist practice. He spoke of three selves: i. the self that says "I should;" ii. the self that says "I want;" and iii. the self that negotiates between the two. And, for the bulk of the talk, he walked through famed psychologist Sigmund Freud's "healthy ego functions" while layering the Buddha's related teachings on top of each. The talk remained focused on skillful action towards long-term "true" happiness versus short-term happiness. Fun, simple examples and stories made for an engaging Dharma talk. 
"Anticipation" was the first ego function discussed. The Buddha's equivalent being heedfulness. The notion of planning and seeing ahead, careful to know the results of one's actions. Knowing that skillful vs. unskillful behaviors yield different results. A key focus was on knowing one's ability to change in this way – to change the way one shapes even the present moment. He spoke of how the Buddha taught that "there is nothing that can be quicker to change than the mind" – that developing confidence in our capacity to change is important. 
The next ego function was "Altruism." The Buddha's equivalent, compassion, was discussed and how thinking of other people's needs cultivates happiness. 
"Suppression" and the Buddhist equivalent, restraint, described "saying 'no' skillfully." Saying 'no' to unskillful actions and saying 'yes' to skillful actions when your desire is saying 'no' are good measures of wisdom. 
And in relation to Suppression was "Sublimation." Saying 'no' to unskillful actions but replacing them with skillful ones: "No, you can't have the ice cream, but you can have a nice healthy vegetarian meal." Ajaan Geoff went on to describe generosity, concentration and virtues as skills to build as go-to replacement tools.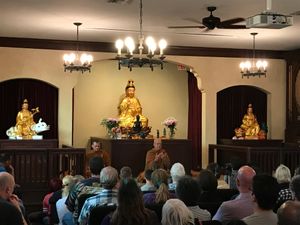 "Humor." "If you can laugh at your foibles, it's a lot easier to not give into your foibles." Ajaan Geoff discussed the importance of humor and referenced the "Monastics' Rules" in Buddhism and how they each began with funny stories for context. 
And last was "healthy shame" which brought up discussion in the Q&A after the talk. Ajaan Geoff described how shame can be healthy because it can protect one from doing unskillful things. 
His conclusion was that these ego functions will help you on the path.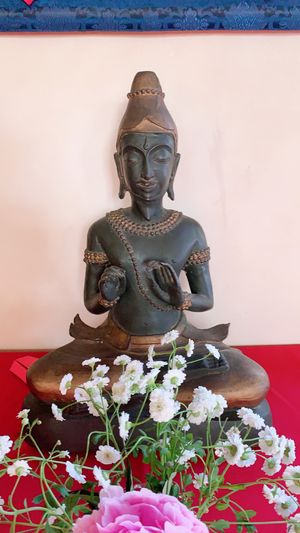 DBT Offers a Gift to Metta Forest Monastery's New Meditation Hall Shrine: 
After the lengthy and engaging Q&A (the event lasted approximately two hours), DBT cofounder, Jeff Zlotnik, came up to thank Ajaan Geoff and stated: 
"When we opened [DBT] 13-years ago, our purpose of the Dharma Bum Temple was to introduce local folks to Buddhist practice, and to be a bridge to other schools of Buddhism. So Metta Forest Monastery and Ajaan Geoff have been very special to so many people in the DBT community…It's been a very special place in our hearts…And we have something very special for you on behalf of this community. We know you've built a new meditation hall…We have a very old, very special Buddha statue that on behalf of the DBT community we came together and would like to give to you and Metta Forest Monastery, so thank you sincerely for everything…It's from all of us." 
Ajaan Geoff has been a mentor, teacher and guide to many members of the DBT community. Metta Forest Monastery is one of the long-term partner Buddhist centers of the Dharma Bum Life Program and Dharma Bum Temple's college program (Delta Beta Tau). In the Thai Forest tradition it is a common practice of merit to donate gifts to new Temple shrines. In recognition of DBT's deep endearment and gratitude to Ajaan Geoff and Metta Forest Monastery, DBT community members came together to purchase one of the oldest and most special statues from the original Buddha for You inventory. It was made in Thailand circa 1930 and comes initially from a Temple in Thailand. The Buddha sits displaying the Dharmachakra Mudra which represent the first turning of the Dharma Wheel. This is the first teaching of the Four Noble Truths the Buddha gave his five disciples at Deer Park in Benares. 
Once again, we send our sincere gratitude and appreciation to Ajaan Geoff and everyone at Metta Forest Monastery. Thank you for touching the lives of so many here at the Dharma Bum Temple and around the globe! 
Click here or the above video to watch the entire evening on the Dharma Bum Temple YouTube Channel.
Ṭhānissaro Bhikkhu, also known as About Ṭhānissaro Bhikkhu (also known as Ajaan Geoff) and Metta Forest Monastery: 
Ajaan Geoff (born 1949), is an American Buddhist monk. Belonging to the Thai Forest Tradition, for 22 years he studied under the forest master Ajahn Fuang Jotiko (himself a student of Ajaan Lee). Since 1993 he has served as abbot of the Metta Forest Monastery in San Diego County, California — the first monastery in the Thai Forest Tradition in the US — which he cofounded with Ajahn Suwat Suvaco. 
Ṭhānissaro Bhikkhu is perhaps best known for his translations of the Dhammapada and the Sutta Pitaka - almost 1000 suttas in all - providing the majority of the sutta translations for the reference website "Access to Insight," as well as for his translations from the dhamma talks of the Thai Forest ajaans. He has also authored many dhamma-related works of his own, and has compiled study-guides of his Pali translations. (His wide collection of books are available free of charge at the Dharma Bum Temple Library – please help yourself). 
Metta Forest Monastery (www.watmetta.org) is a meditation monastery in the lineage of the Thai Forest Tradition in Valley Center, CA. Founded in 1990 by Ajaan Suwat Suvaco, it has been under the direction of Thanissaro Bhikkhu (Ajaan Geoff) as abbot and meditation teacher since 1993. Their recorded Dhamma teachings and more information about Buddhism, meditation and the Thai Forest Tradition can be found at www.dhammatalks.org