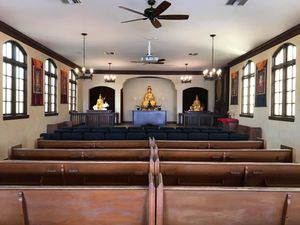 Hello All, 
The Temple received an email two weeks ago from the Mayor's office with regards to their exploration of reopening "Places of Worship". They were reaching out to many religious facilities in San Diego and putting together a plan to open at some time in the future. I was quite honored and humbled that we were on the list of places to contact, that says a lot about the community we have built the past fourteen years. 
I spoke with a woman who is tasked with putting a plan together to potentially reopen "Places of Worship". She asked me what we had to say with regards to opening the Temple. I said that we had no intention of opening soon as we did not feel it is safe as of yet. She was surprised but also seemed pleased that we were being cautious with the members of our community. 
The Bodhisattva practice of the Six Paramitas have always guided the Dharma Bum Temple. So I will use them below to share the current practice in place for the DBT: 
Generosity: Be generous by giving the DBT community safety. Give people the opportunity to be exposed less to anything that may cause harm. As people roam out more, they are at more risk. Allow time to pass so when the Temple doors open, we can give people a community that is as free as possible from causing harm. 
Morality: Be honest with the community about the truth that no one ultimately knows if it safe to go anywhere or not. Do not create any gathering that could potentially cause harm. 
Patience: There is no rush for anything, practice patience at all times! This is an opportunity to be patient with the community while we practice in various ways at home. Your patience can literally save lives. 
Diligence: Use this time to work hard at cultivating wisdom and compassion from home or wherever you are currently. This is an excellent opportunity to understand that Buddhist practice is not about being at a Temple, but training the mind. Train your mind to be at ease and open your heart to love all beings. 
Concentration: Learning to focus on the present moment, while being aware of what is happening around you at all times. Focus on the ultimate truth which is your breath is what keeps you alive. Use this time to abide in sensation of breath and appreciate the breath for all it brings. 
Wisdom: Practice the Paramitas listed above. This is a time to appreciate every passing moment and not crave or desire anything more than what you have at this moment. We will gather again at some time in the future and when we do it will be beautiful. 
With Love, 
Jeffrey Zlotnik 
Co-Founder of the DBT