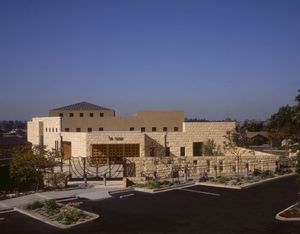 This past weekend I was invited to Temple Emanu-El by Rabbi Devorah Marcus to speak at a memorial service. The man who died was 55 years-old and a practicing Buddhist. His family are members of the Jewish Temple. I want to thank the Rabbi and family for including me in this day. It shows great strength and courage for one religious faith to open their doors to someone from another religious faith to share this moment together. It was special to me for many reasons as this was the same Temple my family started attending 40 years ago in 1979, when we moved to San Diego from Chicago. I had my Bar Mitzvah at this Temple 30 years ago and just about every wedding, funeral, Bat/Bar Mitzvah, etc. I attended throughout my life was at this Temple. This day represented many things for me, but the most special was to realize if we open our hearts and minds to respect other people and their experiences the world can become a safe and beautiful space. Thank you again to Rabbi and the family for allowing me to be with you all. 
When I spoke, I shared the following words from Thich Nhat Hanh, a great Zen Buddhist Master, Poet and Peace Activist from Vietnam: 
"I asked the leaf whether it was scared because it was autumn and the other leaves were falling. The leaf told me, "No. During the whole spring and summer I was very alive. I worked hard and helped nourish the tree, and much of me is in the tree. Please do not say that I am just this form, because the form of leaf is only a tiny part of me. I am the whole tree. I know that I am already inside the tree, and when I go back to the soil, I will continue to nourish the tree. That's why I do not worry. As I leave this branch and float to the ground, I will wave to the tree and tell her, 'I will see you again very soon."
May all be free from suffering...
Jeff Zlotnik
Co-Founder & Executive Director 
Dharma Bum Temple